First class and this weeks meeting
Arduino Class
We had a great turn out and a lot of fun this weekend at the Intro to Arduino class.  A big thanks to Steve for putting this class together and helping with getting everything setup.  Nick also did a great job with teaching the material and answering questions.  We learned a lot about what works and what needs to be adjusted to make the class engaging and fun for everyone.
We also want to thank all of the participants who came to the class!  You guys were great and it was awesome to see the gears turning as you learned about the capabilities of the Arduino.  We will be offering some more classes soon!
Here is a picture of the class in session.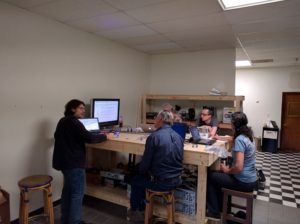 This Weeks Meeting
Just a quick reminder to everyone coming to the meeting this week.  We are hosting a brain-storming session after the initial agenda is covered.
Be Thinking About:
What we can do to increase membership
What you expect from the makerspace as a member
The kinds of tools you would like to see the group purchase
Topics for workshops you would like to host or attend
See you there!
Trackback from your site.